No matter the result, Las Vegas was proud to have resident executive chef, Rick Moonen, of RM Seafood as well as executive chef of Border Grill, Susan Feniger, be represented so well in this season of Top Chef Masters. Last night was the finale which saw our Rick Moonen go toe-to-toe with the likes of Susur Lee and Marcus Samuelsson. If you don't want to result spoiled for you, then read no further…..
Coming from behind as I would think accepted by most as an overwhelming underdog, Marcus Samuelsson of New York's Red Rooster went home with the victory, even though the tricky editing by the good people of Top Chef Masters made it look like the judges were ready to spit up his "tartare." Rick represented with three outstanding dishes and can now proudly boast a runner-up spot.
The final challenge was to cook a three course meal that represented their journey as a chef; first course being their first food memory, second course representing the moment they decided to become a chef, and the third was to be about who they are as a chef.
Rick's first food memory was going clamming with his Dad on Long Island, so he presented a very well received clam dish with some sustainable American caviar. The moment Moonen said he wanted to become a chef was when he went over to his neighbors house and ate a dish with eggs, bacon and mushrooms. It was the first time he ever ate a mushroom and found them to be exotic to the point where he wanted to pursue food further. Rick's representation of this moment was a Gnocchi with a beautifully poached egg, braised pork belly and white truffle.
For the final dish, Rick told the judges through his food that he wasn't going to be typecast as "The Fish Guy," so he prepared an exquisite venison dish, much to the surprise and rave reviews from all at the table. This dish looked so good, it made me even want to try it…and I find the taste of venison to be revolting.
In a special twist in the show, the chefs' sous chefs were brought in to help the competitors out in their final meal. It was none other than Adam Sobel that came to lend Rick a hand. And what a hand it was, whether it was slicing perfect medallion of venison or slapping his battle-weary comrade on the ass as a pick-me-up, Moonen couldn't have had a better partner at his side.
All in all, Moonen won $27,500 for Three Square, certainly not a bad day's work. More importantly, Rick's impressive run on the show put Three Square in the national spotlight for the last couple months which is an invaluable plug for their magnificent cause. I recently wrote a post about Three Square, and you can visit their website at http://ThreeSquare.org.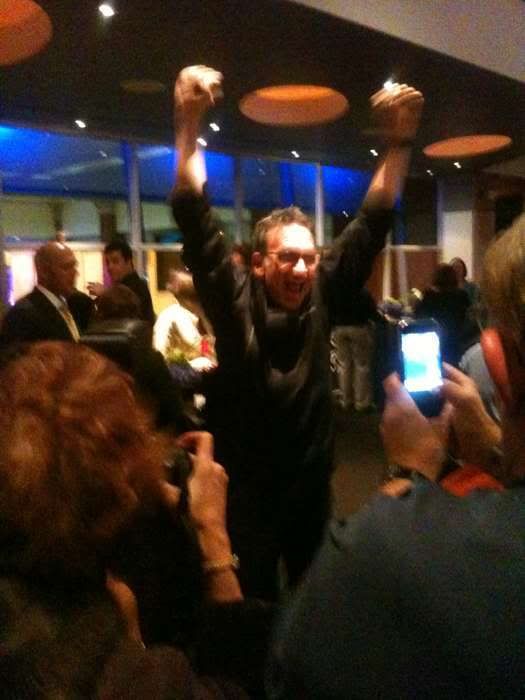 Now all eyes in the Vegas culinary world will be focused on Seablue's Chef Stephen Hopcraft as he embarks on his battle in the regular Top Chef starting next week.  Good luck to Stephen and once again, big congratulations to Chef Rick Moonen on representing the 702 so well on Top Chef Masters!
—–
Mike Dobranski is a professional musician, amateur blogger, eater of good food, poker junkie, master of the inappropriate comment and bad husband to a wonderful wife.
Follow Mike and Tasting Las Vegas on Twitter at @TastingLasVegas.