There are a whole bunch of reasons why I absolutely love living in Las Vegas. Even in the darkest hour of a crushing unemployment rate and economic catastrophe, there is still a youth and vibrance to this city that is unmatched worldwide.  This palpable energy was overflowing at a much-deservedly popular Japanese restaurant just a few blocks west of the Las Vegas Strip, Ichiza.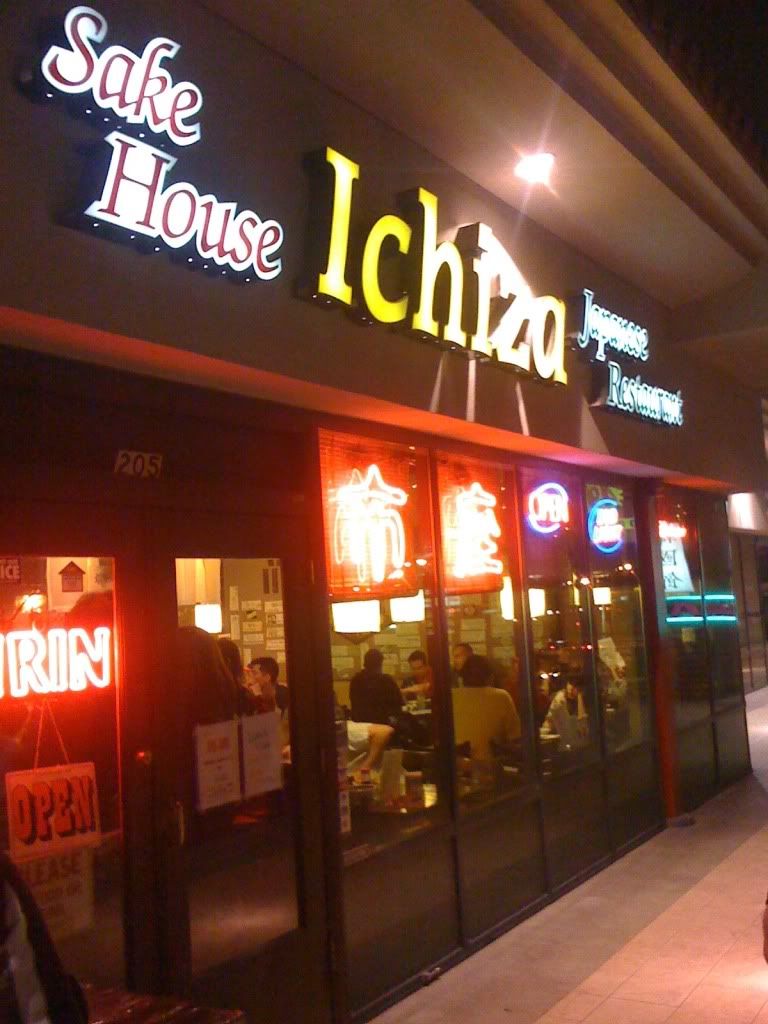 We arrived at Ichiza at 11:15pm on a Sunday, only to be greeted with a 30 minute wait!  And it's not like Ichiza is shoebox-sized like nearby Japanese grill favorite, Raku, Ichiza is moderately sized with a capacity of 60.  With nary an English speaking soul outside of our party to be found, and this being my first time going here, I was greatly encouraged that what we were about to eat was going to be good.
Good doesn't even begin to describe the orgy of food that we got once we sat down to eat.  With daily specials and new items posted on cards on the walls throughout the restaurant, Ichiza is mostly a small plate concept that is remarkably low-priced.  Frequent late night dining companion, noise making colleague and good friend, Dave (I haven't come up with a nickname for him yet like I have for The Wife) lived in Japan for over a year and is a frequent Ichiza patron, so he was our de facto guide for the Ichiza experience.
The first suggestion Dave made was to get the Butter Corn. We had to get the Butter Corn.  This was fine by me, because I am a supporter of both butter and corn, but little did I know the miniature foodgasm that was about to be placed before me.
The Butter Corn ($4) was so much more than just butter and corn. Putting my palate reputation on the line once again for the sake of descriptive commentary, it was a flaky, buttery cracker topped with a cream cheese / crab mixture (think Crab Rangoon filling), cheese, a butter / mayo blend and corn.  I wasn't able to confirm with the kitchen (and I wouldn't even try to bother without an interpreter), but that's what my tongue picked up.
It was outstanding. I don't know how Japanese it is, but who am I to argue with something that made every bit of my hardwired, physiological desire that addicts a human being to food so that it continually nourishes itself explode like a slot machine that just hit Megabucks!  It was salt, it was sweet, it was fat and it was umami; everything a man needs to get down on one knee and propose.
There are a ton of items on Ichiza's menu and scrawled on the walls throughout the joint. With everything from Deep Fried Bacon and Mozzarella Wrapped Zucchini (which made The Wife's blue eyes sparkle) to Wasabi Octopus (which was tasty, but a personal textural nightmare), there is something at Ichiza for everyone's palate.  Once I go a few more times I'll do more of a comprehensive review, but in the meantime, get the Butter Corn; your neural synapses will thank you for it!
—–
Ichiza
4355 Spring Mountain Rd. (2nd Floor)
Las Vegas, NV 89102
(702) 367-3151
—–
Mike Dobranski is a professional musician, amateur blogger, eater of good food, poker junkie, master of the inappropriate comment and bad husband to a wonderful wife. Follow him on Twitter at @MikeDobranski.
Follow Tasting Las Vegas on Twitter at @TastingLasVegas.