The legendary Ensenada based watering hole, Hussong's Cantina Taqueria, recently opened up an outpost in Mandalay Place at the Mandalay Bay resort, and being the diligent food writers we are, decided we must take one for the team and do some late night drinking and nacho eating.  The sacrifices we make for our art!
Hussong's claims to have invented the Margarita (and who are we to argue) back in October of 1941.  I'll let Michael handle the margarita reviews, as I can't go within 300 ft. of a shot of tequila without being overcome with nausea.  Oh, how one night of "over-indulgence" in college has forever ruined a world of delicious cocktails for me…but that is a tale for another time in another forum…
Hussong's does have Negra Modelo on tap, which works splendidly with my love of dark beer.  I'm almost embarrassed to say that I think this is the first time I've had Negra Modelo from the tap, and it was quite nice to not fight their trademark gold foil on the bottles.
Looking over the menu, I saw Nachos and I saw Chicharrones which in turn made me see  hearts and angel wings dance before my eyes.  Exactly what the stomach needs at 10:30pm after a long day at work; Dark Beer and Pork Rind Nachos!
I already had a sampling of the chip part of the nachos with the chips and salsa they provide at the table.  The chips were wonderfully flaky and the Salsa Verde and spicier Red Salsa were fantastic.  I'm usually not a fan of Salsa Verde, but Hussong's proved the theorem; If you put enough lime juice in it, Mike will like it.  After a first course of chips, I was excited for the main event of the Chicharrones Nachos to hit the table.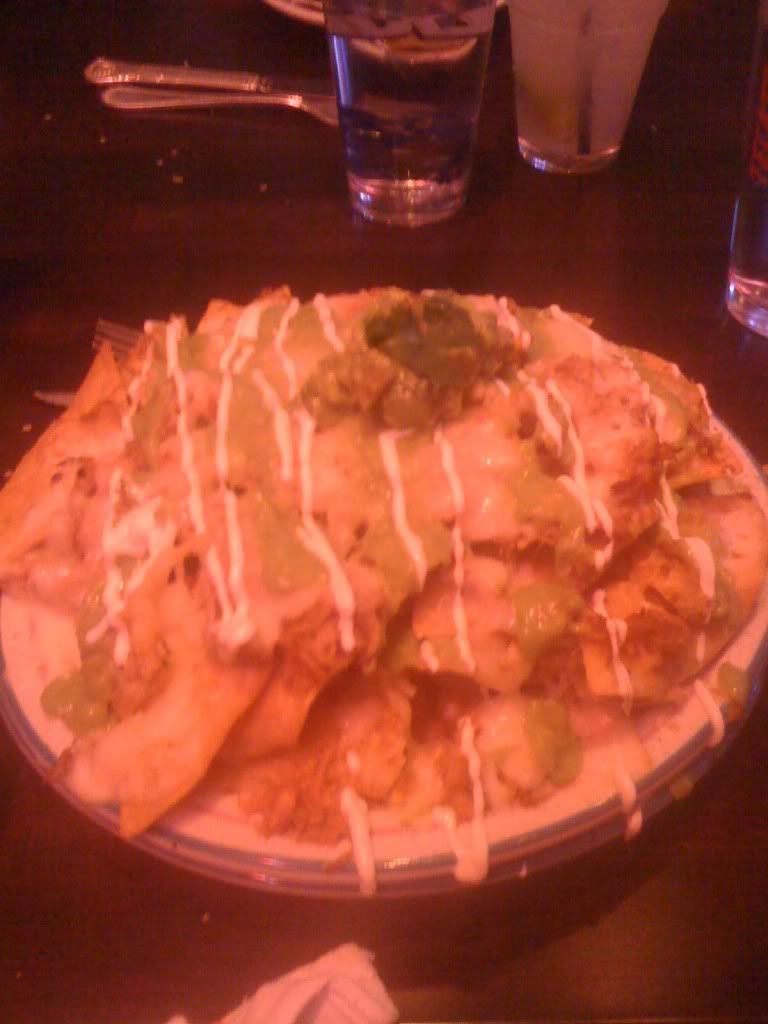 There is sort of an anomaly on the menu with the options of nachos you can get.  You can get the standard Hussong's Nachos for $9.95, or you can Build Your Own Extreme Nachos for $12.95.  The Build Your Own Nachos has a pick 5 toppings plus one meat rule to it.  The only problem is that the Hussong's Nachos has one meat and 7 of the toppings found in the Build Your Own method, but lists at $3.00 cheaper!  The Hussong's Nachos had all of the toppings I wanted, but I wanted the Chicharrones, and after pointing out the pricing criss cross on the menu, the server gave me The Hussong's Nachos with Chicharrones at the $9.95 price.  A good man, that server!
The nachos were right up my alley.  Full of flavor and just about no heat.  I'm not a fan of incredibly spicy stuff, I'd rather taste my food without the annoyance of a tongue on fire and burning lips.  Don't get me wrong, I like a good kick every now and then, but food isn't good to me when it makes you sweat and cry.  To each their own, but Hussong's did me right with how they set up their standard plate of nachos.
The toppings included in the Hussong's Nachos are; Cheese, Grilled Corn, Guacamole (I think they call it Avocado Tomatillo Salsa), Pico de Gallo, Beans, Cheese Sauce (almost not noticeable) and what I thought was the secret weapon, a Sour Cream / Mayonnaise Blend.
I kept thinking I was tasting some mayo every time I saw a glob of sour cream, and I was right.  Apparently this isn't as rare as my gringo mouth thought it was, as I was told mayonnaise is used quite a bit in Mexican cuisine.  I've never been so happy for a temporary French occupation of a country in my life!
The star of the plate, however, were the Chicharrones in all of their fabulously deep-fried pig skin glory.  A whole bunch of nuggets of pork rind and a bountiful amount of pork meat throughout the nachos, Hussong's gives you quite a big of bang for your buck, and did so in a very tasty, aptly prepared way.
I'd whole (and slightly more clogged) heartily recommend Hussong's Cantina Taqueria to get that Nacho Taco Booze Fix we all need to persevere through this winding road we call life.  And if you are one of those people that like to burn a hole in your tongue while doing so, I'm sure they have a whole bunch of jalapeños in the kitchen to make your day.
—–
Hussong's Cantina Taqueria
Mandalay Place at the Mandalay Bay Resort
3930 Las Vegas Blvd. S. #121B
Las Vegas, NV 89119
(702) 553-0123
http://www.HussongsLasVegas.com
Follow Hussong's on Twitter at @HussongsVegas
—–
Mike Dobranski is a professional musician, amateur blogger, eater of good food, poker junkie, master of the inappropriate comment and bad husband to a wonderful wife. Follow him on Twitter at @MikeDobranski.
Follow Tasting Las Vegas on Twitter at @TastingLasVegas.