The Grilled Homemade Sausage with Peppers and Onions and Risotto with Langoustine, Oven Dried Tomatoes and Capers from Piero Selvaggio's Valentino at the Venetian Resort could not have been further apart on the line between fail and success.  Recent memory fails to recall a time where two dishes at the same sitting were so polarized to the extremes of "good" and "bad."  One dish had 85-year old nonnas in Toscana put on a black veil and tearfully wail at the disgrace of their proud culinary heritage, and the other had me singing "O Sole Mio" in an extraordinarily high key.  First, the bad news…
I can't recall ever eating a sausage as utterly revolting than the Grilled Homemade Sausage ($16) appetizer.  The smell alone harkened to a greasy Fall Fair Midway. Not necessarily the worst thing on Earth, but certainly unexpected at a restaurant with Valentino's reputation.  The olfactory combination of charred sausage, sautéed caramelized onion and bell pepper almost made me hear the sound of carnies yelling out "Step right up!" Never too much of a snob to look down at a fine dining establishment to offer some good down home comfort food, I dove right in to taste it.
Cinnamon.
Cinnamon?
Cinnamon!!!
Good God Almighty, they put cinnamon in the sausage!!!  Nooooooooo!!!  The Italian half of my heritage just about jumped out of my body and ran out the door.  Cinnamon in the sausage!  I asked our lovely server (and she was indeed lovely) why on Earth would they put cinnamon in the sausage, to which she replied, "They put in nutmeg."
Yes, they certainly didn't skimp on the nutmeg either (ick), but I know cinnamon when I taste it.  The only way I can describe the horror that was in my mouth was Pork Wrapped Big Red Chewing Gum.
I am an adamant minimalist / traditionalist when it comes to my steaks and sausages. Italian sausage should have Pork, Pork Fat, salt, pepper, fennel, garlic, wine and red pepper flakes (if you want it spicy).  That's all she wrote. A tiny bit of nutmeg, maybe…no…not even maybe…..but Italian sausage shouldn't even be prepared in the same kitchen that has cinnamon in it.
Still reeling from the disrespected piece of piggy, our pasta course arrived which we got the Risotto with Turner Scampi (they were langoustines, I don't know where "Turner" comes from), Oven Dried Tomatoes and Capers ($24).  First impressions were that it was a huge portion and it smelled good, but we've been down that "smelling good" road before, so I was tentative to build up any expectation before the first taste.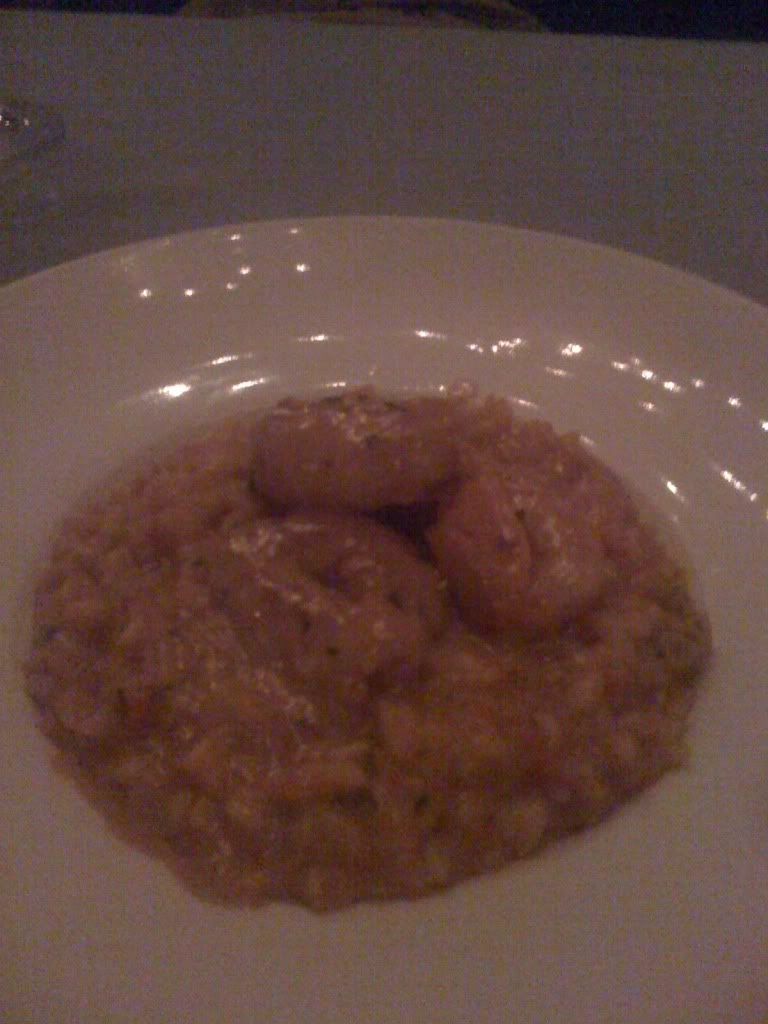 It was fabulous, and an instant Weekly Bad Picture of Good Food classic. Exquisitely flavorful and masterfully prepared, the extraordinarily rich risotto had just the perfect bite to it to ensure the dish wasn't just a luxurious plate of baby food mush.  The thick cream of the risotto was eyes-rolling-in-the-back-of-your-head good with the explosive concentrated flavor of the oven dried tomato and capers. The langoustine tails were also fabulously prepared and remarkably fresh, sweet and melt-in-your-mouth tender.
If there could be any drawback about this dish, it is in its richness.  Most would consider this dish to be too rich for a typical pasta course, especially if it's only shared by two people.  If you go for a lighter entree, I'd say go for it. If you don't mind breathing heavy and waddling uncomfortably through the resort with a heavier entree on top of it, I'd say go for it, too.  Keep in mind, the risotto is perfectly capable of holding up as an entree in and of itself.
—–
Valentino Las Vegas
The Venetian Resort Hotel Casino
3355 Las Vegas Blvd. S
Las Vegas, NV 89109
(702) 414-3000
http://www.valentinorestaurantgroup.com/valentinolv/default.asp
—–
Mike Dobranski is a professional musician, amateur blogger, eater of good food, poker junkie, master of the inappropriate comment and bad husband to a wonderful wife. Follow him on Twitter at @MikeDobranski.
Follow Tasting Las Vegas on Twitter at @TastingLasVegas.