Like so many epic tales begin, it all started in a Red Robin. Two servers brushing up against each other at the beverage station, complaining to each other about the pain in the butt seated at table 27 (probably was me) and walking each other to their cars after a long shift's work, a romance sparked between these two hard-working dish jockeys and some 12 years later are now sharing with the world the ultimate symbol of their love; The Cupcake.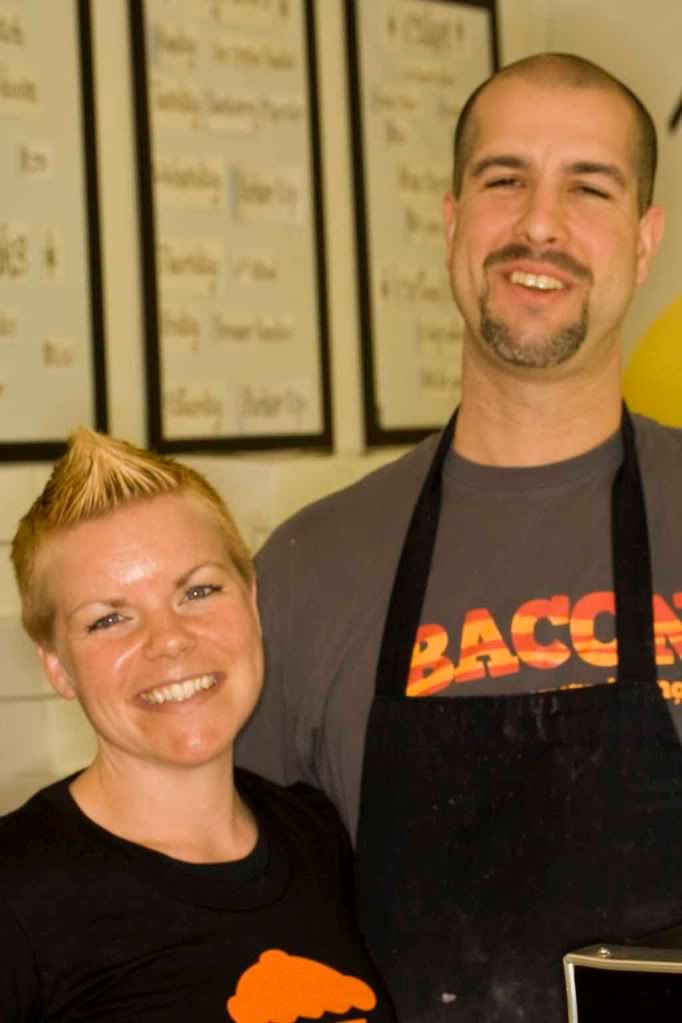 Those two servers were none other than (the now) Kari and Brian Haskell, owners / proprietors / founders / chefs / artists / bookkeepers / delivery-people / cleaners / builders / developers / marketers of the Retro Bakery in the Centennial Hills neighborhood in the northwest edge of the Las Vegas Valley.
We pick up the story when Kari and Brian were about to have their first little cupcake of their own. Kari decided to be a stay-at-home-mom (the really tough job) and Brian went on to work his way up the corporate ladder with Red Robin to the point where he was a manager that traveled to open new locations.  After getting sick and tired of pulling up the stakes every couple of months and always moving from town to town, they decided to settle down in Las Vegas.
With Brian doing the ins and outs of the restaurant trade at work, Kari was at home; being a mom, baking because she loved it, surfing the internet and watching plenty of Sex in the City.  She began to notice the booming trend of cupcakes and thought to herself, "Hey, I can do that!"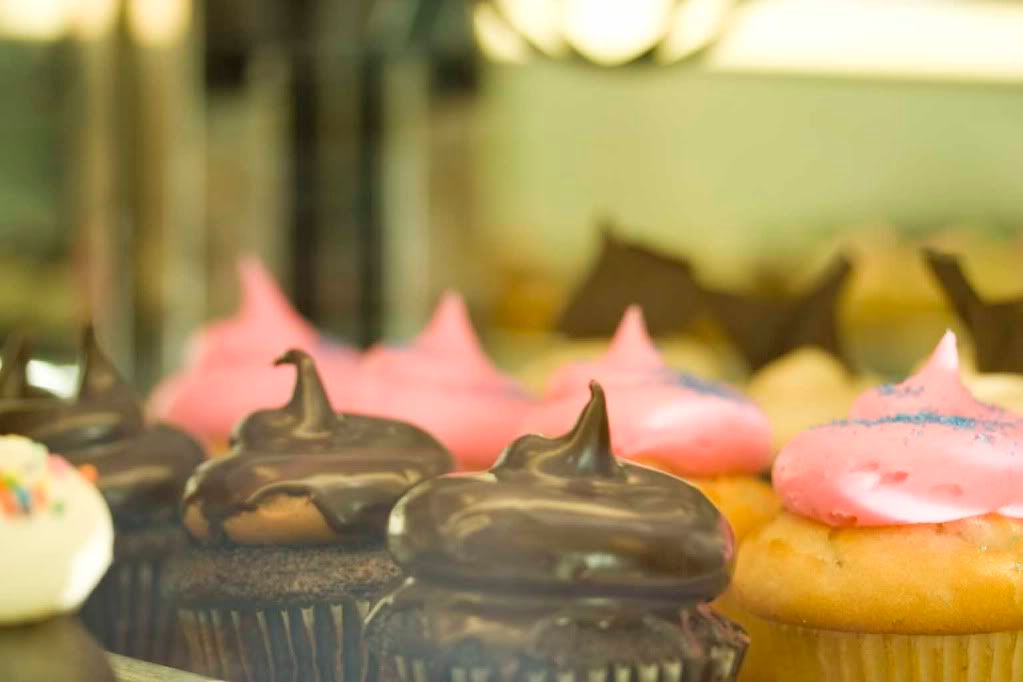 She began furiously researching locations, competition and recipes.  Finding out that a competitor was moving in on her turf and taking into consideration the meteoric boom of Las Vegas real estate at the time (whoops!) Kari kicked it into high-gear and opened the front door of the Retro Bakery on February 10, 2008; just three months from her Sex in the City induced eureka moment.
Literally on their hands and knees building the business, Kari developed her flavors and concepts in times between both her and Brian laying tile on the floor and painting the walls.  An avid fan of the art and style from the Atomic 50′s Pop era, Kari brainstormed names for the store with her friends, stressing that she wanted something that conveyed a "retro" feel.  Finally a friend just said, "Why don't you just call it Retro Bakery?" and a brand was born.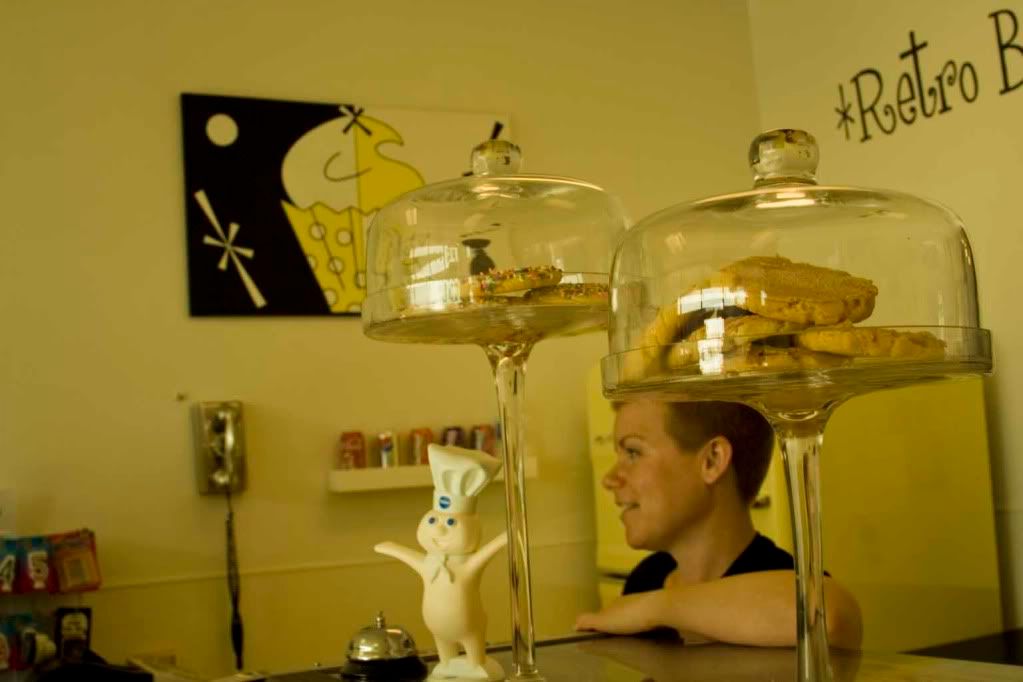 The "retro" in Retro Bakery goes far beyond the name and the 50′s-era looking refrigerator behind the counter.  With flavors inspired by favorite desserts, cereals and other divine guilty pleasures, the cupcakes at Retro Bakery evoke memories of simpler, some would say happier, days-gone-by.  Remember the days where you didn't have to worry if a food item was once in the same building as a peanut, gluten flowed like champagne on a yacht in the Riviera and the liquid that surrounds lactose made a body good?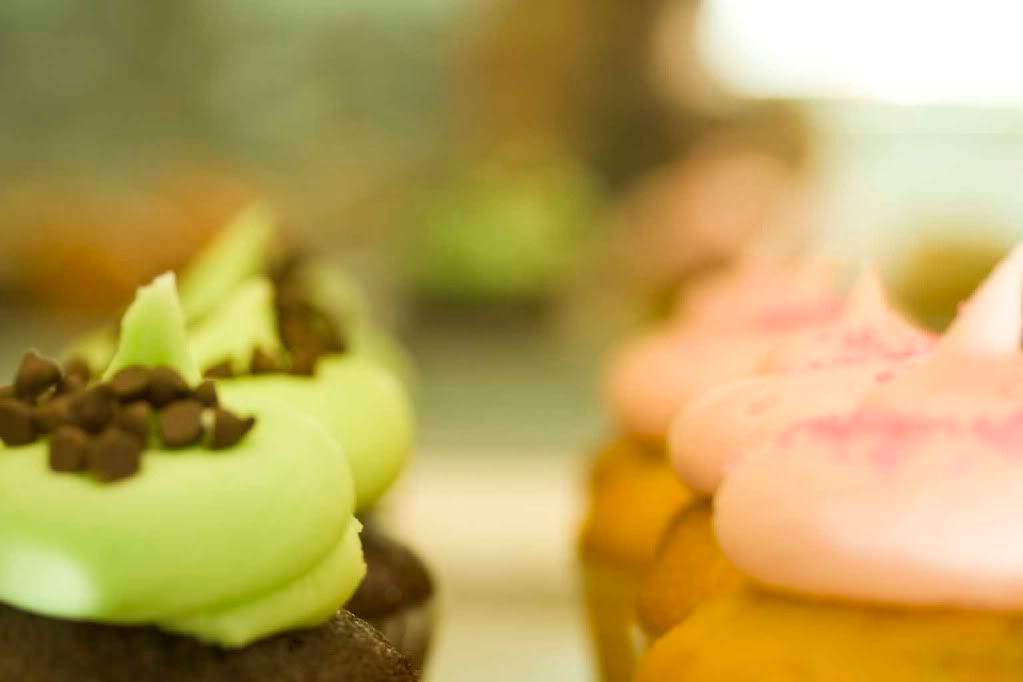 You're not going to find a Sun-Dried Tomato Cupcake with Balsamic Reduction Foam at the Retro Bakery, but you will find a cupcake based on a Drumstick, in all of its chocolate-covered, peanut-drizzled, ice cream coned glory.  You'll also find a cupcake based on Mint Chocolate Chip Ice Cream, neon-green like Mother Nature meant for it to be, but just forgot. And yes folks, there is bacon. Original Pancake House inspired Maple Bacon cupcakes that give you sweet maple in the beginning, and blissful piggy in the finish.  At Retro Bakery, the buttercream (the icing of choice at Retro) is plentiful and the flavors are bold.
Starting out two years ago, primarily in the art of cupcakes, Retro Bakery has since expanded to cookies and custom cakes.  Delivering their goodness to all over the Las Vegas valley, Kari estimates that 85% of their cake business comes from tourists on the Las Vegas Strip.  With weddings, bachelorette parties and baby showers leading the way, Retro Bakery has quickly become the dessert of choice for many entertainment spots and other special events on the Strip.  From Opening Night parties for shows like Jersey Boys, cast member birthday celebrations for shows like The Lion King and a display of pure temptation for the beauty queens of the recent Miss America pageant, Retro Bakery has quickly become part of the unique and vibrant fabric that is Las Vegas.
As Kari and Brian's dedication and commitment continues to bring in rewards, expansions to the business are being developed, some already realized.  With Kari and Brian doing just about everything in their 85-90 hour work weeks, they have two more employees that are temporarily at full-time status; Raegen as a baker and Margeaux identified as "cake girl."  With the time between Valentine's Day and Mother's Day being the cake world's busy season, it's all hands on deck to get the tasty treats out to the public while still maintaining the superior quality that has helped Retro grow so quickly.
In the works is figuring out a way to ship the goods to their fans from all over the globe.  Buttercream this light and fluffy ain't that easy to mail!  One of Kari's primary goals with the bakery is for it to be a Las Vegas destination.  Tourists are realizing there is so much more to our beautiful valley than what is on Las Vegas Blvd., Kari wants Retro Bakery to be a part of their travel plans.  Already, Retro has fans that make the trek up the I-95 from Hawaii to London.  That's a hell of a long way to get a cupcake, a true testament to the fun and flavor!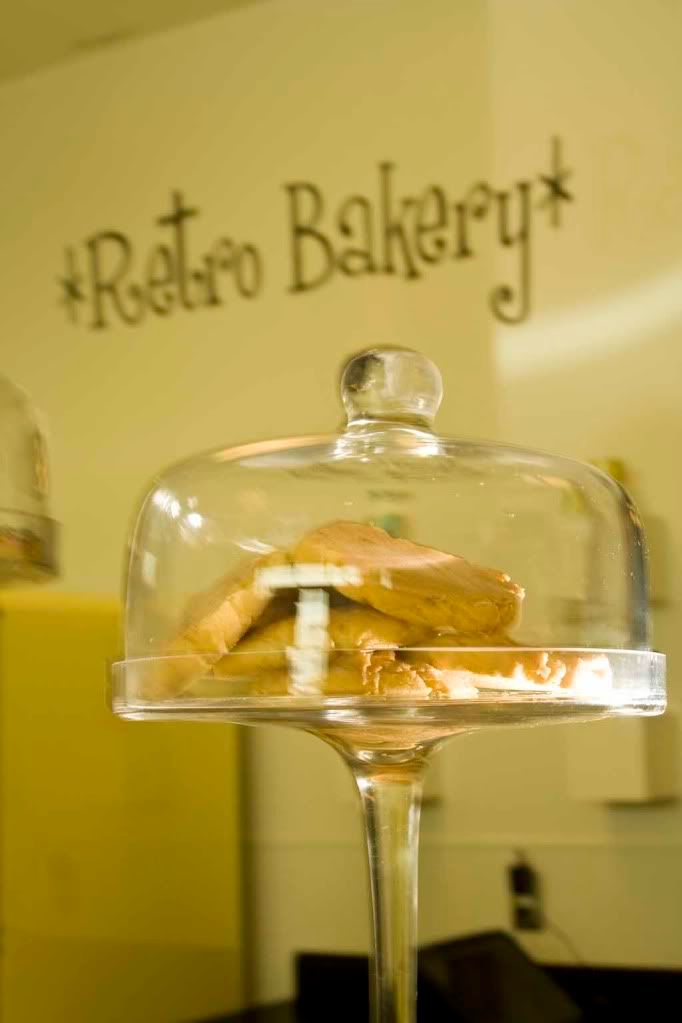 Almost in a Field of Dreams If-You-Build-It-They-Will-Come mindset, Retro Bakery has no PR firm representing them, and really no commercial advertising to speak of.  What Retro does have is a website, a blog, a Facebook page and a Twitter page.  Virtually doing a clinic on how a small business capitalizes on Web 2.0, Kari's almost unintentional savvy use of the internet brings in new business everyday and the quality of the product keeps the customers loyal.
The last two years have brought a lot of laughs and a lot of tears for Kari and Brian.  With burns on her arms proudly displayed as battle scars, and 3am shouting matches in the parking lot after an almost insurmountable struggle with a hexagon cake, the passion they have of their craft has allowed them to persevere and savor the many great moments they have.
One of the funniest stories from the past two years comes from their very first delivery, which Delivery Boy Hat goes to Brian.  The first delivery Brian ever made was a cake to The Palms, one of the hipper, sexier resorts in town.  Proudly getting the goods to its destination in one piece, Brian knocked on the door of the room it was going to, only to be answered by a woman, completely naked, wearing only body paint! (have I mentioned recently how I love Las Vegas?) A shocked, blushing Brian returned to the store, only to carve in stone that he would make every delivery from then till eternity. (ok, so I embellished that last part, but he really did see the naked chick!)
On February 10, 2010, Retro Bakery is celebrating their 2 Year Anniversary with a Free Cupcake Day, where everyone gets a free cupcake from the time until they open at 8am until the very last cupcake they have, which will hopefully be until they close at 6pm.  Some other exciting upcoming events to note is that from February 11th – 13th, the Valentine's Day decorated cupcakes will be available at no extra charge.  Also, although no specific date has been set, Johnny Cupcakes will be visiting Retro Bakery with his Suitcase Tour sometime in April.
Where some people may scoff at paying around $2.50 for a cupcake, you really shouldn't when it comes to Retro.  These are special products you won't find in your neighborhood big box store.  In each bite, you can taste how Kari has baked for her entire life and enjoy the good-spirit and personality that comes along with it.
Retro Bakery is not fancy, it's not pretentious; it's fun and it's good.  Retro Bakery is an inspiration to not only home-bakers with big dreams, but anybody with that sparkle in their eye to be their own boss and do their own thing.  You can't help but notice that sparkle in Kari's eyes as she talks about how her love of Cinnamon Toast Crunch was translated into her favorite Cinnamon Toast Cupcake, or how proud she is of Brian and the beautiful designs he does on the cakes.
Whether you live next door, have to drive across the entire valley (like me) or have to travel over an ocean to get there, I suggest you do it.  Retro Bakery is a Las Vegas destination that shouldn't be missed!
—–
Retro Bakery
7785 N. Durango Dr. #130
Las Vegas, NV 89131
(702) 586-3740
Follow Retro Bakery on Twitter at @RetroBakery
—–
All photographs in this post were taken by photographer, Kevin Stout. See more of Kevin's work at http://KevinStoutPhotography.com.
—–
Mike Dobranski is a professional musician, amateur blogger, eater of good food, poker junkie, master of the inappropriate comment and bad husband to a wonderful wife. Follow him on Twitter at @MikeDobranski.
Follow Tasting Las Vegas on Twitter at @TastingLasVegas.