One of the restaurants I was anticipating the most at CityCenter was Shawn McClain's first Vegas outpost in Sage in the Aria resort.  Knowing of Chef McClain's dedication to locally grown, sustainable organic foods, I couldn't wait to see what masterful things he does with the ingredients.  However, my great expectations were somewhat disappointed as the evening turned out to be a Culinary Alpine Skiing event; starting at a very high place, speedily going downward and ending at the low point.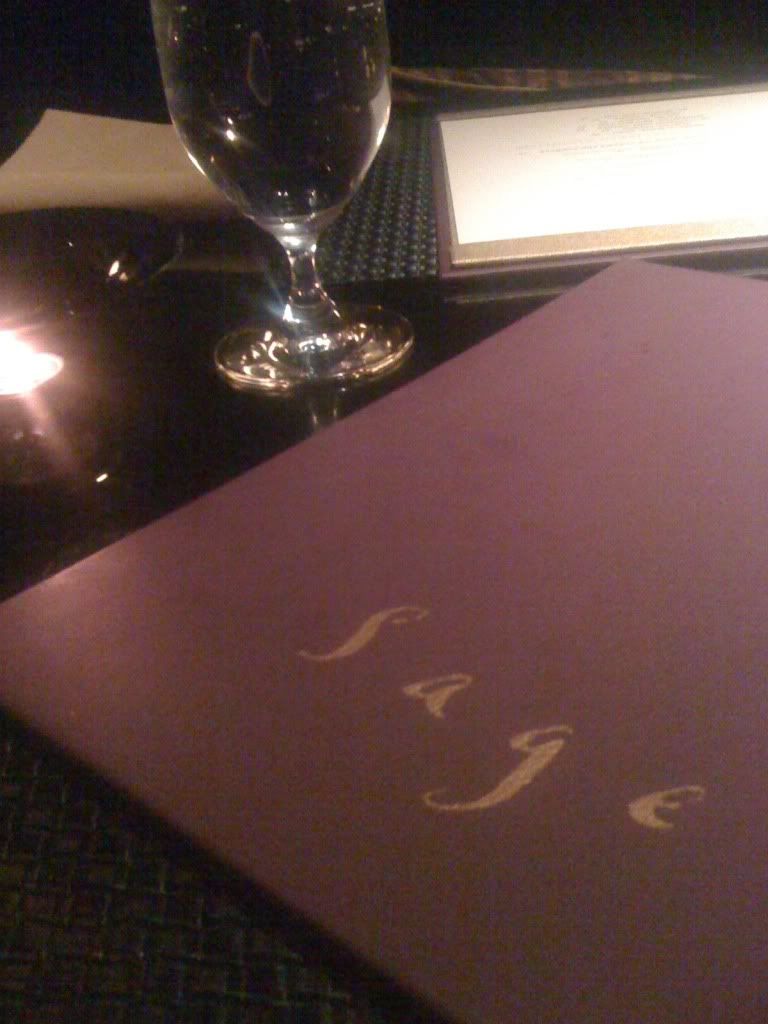 Arriving at Sage on a Friday night without reservations is a no-no. It is popular, and deservedly so. It's a very hip looking restaurant with a very hip menu.  The lovely hostesses graciously squeezed us in a spot an hour from our arrival, so The Wife and I decided to sit at their beautiful bar, which colleague Michael has already gushed about ad libitum.
The bar is indeed beautiful, with the best barstools my wide ass has ever sat upon. Big, round and cushy, the barstools cater to a long evening of imbibing.  Three wonderfully attentive, knowledgeable and talented barkeeps manned the bar, pouring cocktails made from the most premium of ingredients, to pulling draughts of some not-so-common micro brews (not an Anheuser-Busch product to be found!)
At the bar you can order from the full menu, or choose from a selection of bar foods, some of which are just smaller portions of the appetizers on the full menu.  We were starving, yet still wanted to enjoy the romanticism of a table on one of our rare date nights, so we ordered Chef McClain's already famous, Foie Gras Custard Brulee ($25 regular, $18 bar-sized), to hold us over until the main event.
The Foie Gras Custard was a velvety textured flavor explosion. The Wife aptly noted how stunningly quick the finish was on the taste, considering the intense flavor burst as tongue touched liver.  I know going into my next statement that it is complete sacrilege, but it is what I tasted so I'm going to report it; but the flavor to me was that of an incredibly controlled and refined Bacon Cheddar Easy Cheese.  I mean that in the best possible way, as it was quite enjoyable, with only the trademark mineral-ish flavor of liver happening at the very end as the taste quickly dissipated.
Another bit of sacrilege while I'm at it, my only gripe is that I could have used less custard, more brioche. (yes, really!)  It's our fault that we turned down the bartenders bread offering before the appetizer arrived (as we were still a half hour away from the main event), but the little Brioche mini-muffin that came with it wasn't enough for the healthy portion of duck liver cloud that was presented.
Before we knew it, the lovely hostess got us from our cozy barstools and lead us to the main dining room which continued the comforting vibe of deep purple berry colors, warm woods, dark stones and lush fabrics.  The dining room was filled, and the general noise level from the myriad of conversations was high, although thankfully muted enough by the massive purple draperies along the walls.  I only bring up the noise level now as it is a key to an apparent lack of training of the wait staff that I'll go on about later.
First up was an amuse bouche. Thank you, Sage, for still rolling with an amuse!  I've found amuses have died off in recent times, so I was happy to get that little token of appreciation.  The amuse was a small piece of grapefruit in a sort of bacony vinaigrette with a Chardonnay foam.  Please pardon my French, as I am at a loss for words with enough emphasis that accurately convey my feelings; but it was Fucking Brilliant! (capital "F", capital "B")
The amuse goes down as one of the best bites of food I have ever put in my mouth.  Words can't truly explain its perfection.  Once my eyes unrolled from the back of my head and my heart rate came back down to a safe rate, I thought to myself, "Holy crap, we're in for one hell of a night!"  I know it's a tough act to follow when the kitchen just hit a Lead Off Grand Slam (yeah, I know that's impossible to do, but you get the point), but everything we've experienced thus far set the stage that it could happen.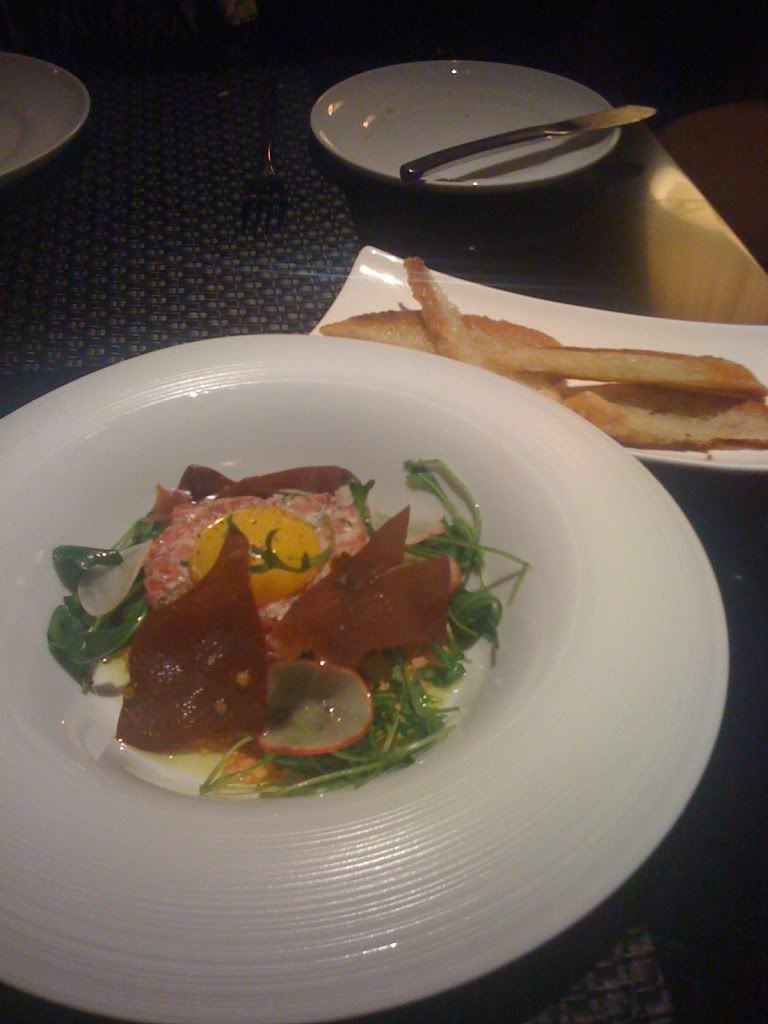 Good news, the appetizers did the amuse proud with Waygu Beef Tartare ($18) and Grilled Hawaiian Blue Prawns ($19) (and of course don't forget the Foie Gras Custard Brulee from earlier).  The Waygu Beef Tartare was exquisite in all of its lush, rich, sumptuous glory.  The slow poached egg yolk that rested on top taught us why you would want to spend 30 minutes cooking an egg. The crushed caper aioli and pickled mustard seeds perfectly accented the Waygu, which is always the star of the show as the crispy chocolate tuile-type wafer added yet another dimension to the richness, hardly just showing up for a fancy presentation.
The Blue Hawaiian Prawns made me want to cook everything from here on out with Meyer lemon, artichoke hearts and salami. This appetizer is an "I-Want-To-Eat-This-Everyday-For-The-Rest-Of-My-Life" kind of dish.  The puckery tartness of the Meyer lemon was so well matched with the artichoke and dry-aged salami. I almost forgot there were prawns in the dish, which isn't a knock on the prawns, which were delicious and perfectly prepared in their own right, but the icons of flavor in the other ingredients stole the spotlight.
Speaking of spotlights, I'm not sure if this was intentional or not, and can only speak for the table at which we were seated, but the lighting was brilliantly done.  Two spotlight shone perfectly at the middle of the table where the appetizers were presented to the two of us, giving the plates of food a well-deserved highlight.  If this was intentional, kudos to the design team for giving the food the proper stage it deserves.  If it wasn't, then they should pretend that it was.
Next up were the entrees, and after the impossible-to-match amuse and tingle-in-our-special-place quality appetizers, the entrees had it so easy that it was like Don Rickles and Robin Williams was their warm-up act. Or was it?
I got the Roasted Loin of Iberico Pork ($42) and The Wife ordered the Mishima Ranch Kobe Flat Iron Steak ($42).  To say the entrees were a fail would be disingenuous, as they were very good, but they paled in comparison as to the quality and ingenuity of what was presented before them.
The Iberico Pork Loin was splendidly prepared and flavorful, but not to a degree where it was all that memorable.  Along with the pork loin came a Pork Shoulder Cannelloni which brought the first true fail of the night.  The pork shoulder confit-ish filling was molto tasty, but it was wrapped in an over-cooked sheet of pure boredom.  It's like how the Las Vegas Sun comes wrapped in the middle of the Review-Journal; a really nice center wrapped in horror.  I would much rather a chef break out the Barilla or De Cecco box than half-ass a homemade noodle.  Overcooked and under-seasoned, it really brought down the whole dish for me, especially when I'm paying $42 for 6-8 oz. of pig.
The Kobe Flat Iron Steak brought on another developing pet peeve of mine, which admittedly one can argue, "Why the hell did you order it in the first place?"  For one, I didn't order it, (The Wife did) and two, Chef Martin Heirling's Silk Road at neighboring Vdara shows that a Kobe Flat Iron Steak can work.  Chef Heirling, however, figured out a way to do it at half the price and twice the flavor as the Sage edition.
My beef (get it?) with Kobe Flat Iron Steaks, along with Kobe Hamburgers, Meatballs, etc. is that the Kobe "brand" name is getting slaughtered by chefs eager to put the Kobe stamp on their menus to appease customers that watched one too many episodes of Iron Chef.  I would much rather see the tenderloin of Colorado's Finest Grass-Fed Moo Cow on the plate than the leftover ass scraps of a Japanese Waygu steer.  Unfortunately, domestic grass-fed beef doesn't have the headlining status of Kobe (yet), so the unmatched quality of a GOOD cut of Kobe cow gets its armor dinged with the lesser, cheaper cuts.
Don't let my usual abundance of snark paint too bleak of a picture of the entrees.  They were good. They weren't $42 good, and they were nowhere near the same league as the amuse and apps, but…they were "good."  And while my trademark snark may very well be overly harsh for the reality of the entrees, it lines up just right for the desserts and the service.  Both tremendously drag down what should be, (and what some already consider) a front-runner for a James Beard Award.
First, the service.  As previously mentioned, the three bartenders on duty were magnificent and are deserving of accolades in everything that is bartending.  The hostesses were also very accommodating, and even tracked us down at the bar when it was time for us to be seated and were very patient with us as we settled our business with the bar.  The dining room staff (that we had, at least) was a different story.
Our main server, which I've made the last minute decision to not include his name, should quite frankly not be working at a restaurant of this caliber.  Sure, everyone has a bad day, and it may not be fair to judge based off of one experience, but after you go to enough restaurants, it's easy to sniff out and differentiate between "bad day fails" and "incompetence fails."  This particular server may have had an unfortunate mix of the two.
It started off when he mumbled through the specials. I caught a "potato oxtail croquette" being mentioned as a side, to which my now drooling mouth asked if we could get the croquettes somehow.  This is where the server arrived at his first fork in the road. A.) Use basic decent people skills and say something to the effect, "Let me find out if I can do that for you." or B.) Look at me like I had some kind of fungus pouring from my nose and say, "Well, I don't know if they made enough, probably not." then proceed to not follow up with me for what I thought was a relatively simple request.
Oh…follow up.  Did I just say, "follow up?" Yes, that is something a server with at least 2 days of Applebee's experience typically does, however not this server, or more appropriately should be deemed "order taker."  There were a flurry of people running around the busy dining room with plates, baskets and pitchers, none of which, other than the water guy, seeming to actually arrive at our table.
No basket of bread left at the table here, they have an actual bread guy bring the fresh baked delights out to you, which is common in dining establishments of a finer quality. When given the choice between Potato Herb or Olive, I'm of course going to say yes to both, which I did, and then apparently that same fungus that was pouring out of my nose after I asked about the croquettes happened as I was the recipient of yet another look.  Is it really that out of the ordinary to ask for two pieces of bread?  I don't think so.  And it's a good thing I got it while the getting is good, because we never saw Bread Boy again at our table for the remainder of the night.
The runners who brought out the food neatly placed the plates before us, and then proceeded to mumble through what was actually on them.  Another mumbling episode in a busy room with substantial conversational white noise happening in the background.  Am I just this much of a picky jerk, or is it a basic point of training to emphasize clear diction with a solid voice if part of their gig is going to be talking to the customers.  Of course the mumbling isn't a Should-We-Go-Here Dealbreaker, but it is a point of concern I want to highlight should anybody from Sage actually read this.  And if this was the kind of place that the servers need to wear "Pieces of Flair," this would be a total non-issue, but it becomes one when I'm spending $300+ on a dinner for two.
The biggest serving mistake of the night came at the end, where my coffee was completely forgotten.  The service went from mediocre in the beginning to downright abysmal by the end of the night. There was a longer than standard wait time from when our dinner plates were cleared to when the dessert menus were presented, then a significant wait for the dessert orders to be taken, and then at least another 20 minutes to get the desserts.
Once we got the desserts, there was NO ONE to be found to ask the simple question, "Where the hell is my coffee?"  We actually finished the desserts by the time the main server came back to the table.  It was at this point where he faced another fork in the road. A.) Bring the French Press over and say something to the effect, "Our deepest apologies for the confusion about the coffee, here it is, it's on us." Or B.) Bring nothing and say, "They screwed up with the coffee, you still want it?"
At this point, I probably gave the server the look of fungus coming out of HIS nose myself, as I was shocked that a server with this prime gig would be so remarkably bad at his job.  A server takes the order, conveys that order to the kitchen, brings the food out, sees if you like it, and then takes your empties away…and kitchen runners and bus boys even alleviate some of those tasks.  It's not rocket science, of which apparently to this server, it was.  But there is that X-Factor in servers that can't be trained; it's just basic people skills, of which this guy had none.
Speaking of the desserts, they were by far the low point of the food side of the evening.  Very pedestrian offerings that took a ball-peen hammer to yet another one of my pet peeves: Weird Ice Cream.
Weird Ice Cream has its place in the world, but if you are going to have the stones to put Browned Butter or White Pepper Ice Cream on the plate, you best do it well, and these weren't.  My main gripe with weird ice creams is that ambitious chefs want to make their menu all fancy and convey that Iron Chef vibe to their patrons, but they don't have the fortitude to actually make what they say they made.  If you are going to make Browned Butter Ice Cream, I want to be able to taste Browned Butter with out closing my eyes and swirling it around in my mouth until for that briefest moment I think I might have tasted the essence of Browned Butter.  Forget the White Pepper Ice Cream, I even squeezed my eyes shut for that one and got bupkis.
Granted the ice cream tasted ok, but it didn't taste as advertised. They just tasted like an average sweet cream ice cream.  The Browned Butter Ice Cream was part of the Venezuelan Dark Chocolate Cremeux ($12) and the the White Pepper Ice Cream was part of the Warm Sticky Toffee Pudding ($10).  Both desserts were nowhere near the city limits of the sophistication the amuse and appetizers showcased.  Worlds apart in both concept and execution, the Cremeux was atop a dry piece of banana bread, and the Toffee Pudding was just, well, Toffee Pudding.
It's almost as if Sage is having an identity crisis, going between "Potential James Beard Award Winner" to "Beautiful Purple Tourist Trap."  This is understandable with it only being a month or so in operation, and who knows what to do these days given the economic climate.  My hope is that Shawn McClain and his staff can find that spark of magic they made with the scenery, the bar, the amuse and the appetizers and apply it to the rest of the restaurant.  If they can do that, watch out world, Las Vegas will have another one of the top culinary destinations on the planet!
—–
Sage
Aria Resort & Casino
3730 Las Vegas Blvd.
Las Vegas, NV 89109
1-877-230-2742
http://www.arialasvegas.com/dining/fine-dining.aspx
—–
Mike Dobranski is a professional musician, amateur blogger, eater of good food, poker junkie, master of the inappropriate comment and bad husband to a wonderful wife. Follow him on Twitter at @MikeDobranski.
Follow Tasting Las Vegas on Twitter at @TastingLasVegas.