Following a media event on January 20, 2010, Caña Latin Kitchen & Bar opened its doors for the general public to see on the 21st, and Tasting Las Vegas was there to give the new South American Tapas concept a test drive on their first full day of regular business.  First impressions: It's good. Really good.
For what was their first day fully open, there were only a few minor burrs in what was overall a very enjoyable experience.  One thing that I'm sure they are working on is that it isn't the easiest place to find. On the 2nd floor above The Grape and next to the Blue Martini, you think it would be a great location, and it will be, but there needs to be some kind of signage to highlight that it is there as it is set back and not even noticeably visible when you reach the top of the escalator next to the Blue Martini.  I point this out now because I don't want to see Caña suffer from what I call "First Food and Bar Syndrome" which is great food in an almost unfindable location. (a full review of First will be coming soon)
The decor is hip, warm and inviting. Sugar Cane (Caña's namesake) is used for an interesting woven texture on the ceiling and is also used as a sweet way (get it?) to achieve space separation.  From the looks of things, there are a lot of sliding glass doors and windows which will allow the restaurant to have a refreshing open-air feel.  There is a balcony with seating over looking the center of Town Square which will no doubt be prime real estate in the warmer months.
The seats inside are fabulous, and were commented on by each of the five of us in our party.  The wide, extra cushy seats lends itself to a comfortable long graze of the delectable small plates.  The only thing prohibiting a relaxing time of drinking and eating was that the music was too loud, causing most attempts at conversation to be strained.  The music seemed to soften as the night went on though, so hopefully it was corrected on the spot.  And while we're on the music, it was really a perfect compliment to the food. It was pretty much a musical version of the food we were about to eat: hip, modern versions of South American classic style.  Keep the music, turn down the volume knob.
Before I talk about the food and drink, there was only one more point of concern, and that was the bathroom.  It's interesting that they have a unisex common area to wash your hands which leads to individual rooms for men and women, but what unnerved me a little bit was the very attentive Restroom Attendant.  First of all, the Restroom Attendant was a very attractive lady that first opened the door to get to the common area, and then led me one of the private toilet rooms.  As I started tinkling, I couldn't help but think that there is some lady outside the door waiting for me to come out. Heaven forbid I should be stricken with a sudden #2 on deck!  As I opened the door to go wash my hands, she was very attentive indeed, turning on the water, pumping the soap in my hands, handing me a paper towel, turning off the faucet and then opening the door for me so I can leave.  I would never want to see someone who does their job well lose their gig, but something about that whole situation needs to be done.  If it took me over a month to fart in front of The Wife, how can I do the vile things that happen in a bathroom in front of a girl I just met?
Now that your appetites are surely piqued after that story, let's talk about the food and booze!
I started off the night by ordering their take on Brazil's favorite cocktail, The Ultimate Caipirinha ($9). The Ultimate Caipirinha has Leblon Cachaca (rum-ish sugarcane based spirit), Velvet Falernum (sugarcane based liqueur infused with lime, almond and clove), sugarcane and lime.  If you like sugar, booze and lime, then this is the drink for you.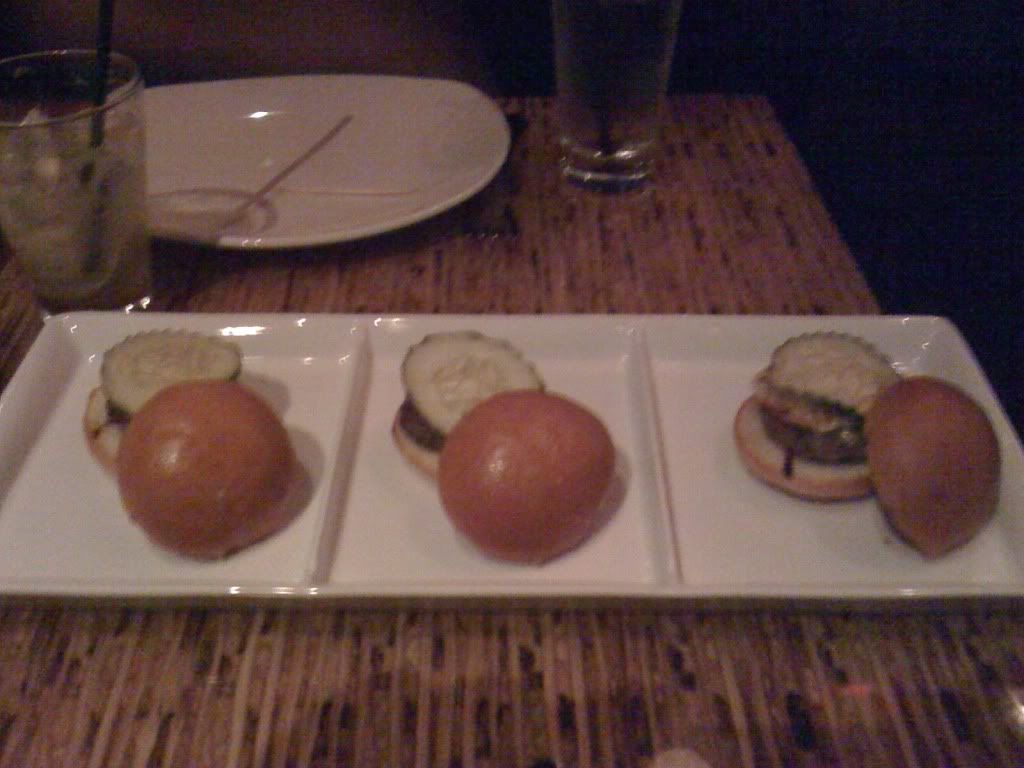 Between the five of us, we ordered a sizable portion of the menu.  First to arrive to the table were the Yucca Frites ($6). We felt they needed a more traditional thicker cut to them, as they were too hard with the thinner cut.  Also the Cuban Sliders ($10) were one of the early dishes. They were good, and would be great with one little tweak that the pickle should be much thinner as it almost overpowered the slider.  It said pork on the menu, but I could have sworn the patty part of the slider was at least partially ground beef, although the seasoning and myriad of other flavors might have thrown me off.
They have a whole list of Ceviches on the menu, we ordered two of them, the Hirame ($12) and the Hamachi ($14). The fish was very fresh and as noted by Michael and agreed upon by the rest of us, perfectly cured.  I wish I could get a picture of the beautiful presentation, especially of the Hamachi, but the animals I was with dove into it before I could snap off a pic.
A side note about the presentations. While there was an obvious careful consideration as to how the food looked on the plate, a very minor observation, but I think would bump everything up to the next level.  From the dishes we ordered, it seemed like the chef was a little "paint happy," meaning that the saucing for a few of the plates we ordered was that fast, fat brush stroke on the bottom for the main attraction to rest upon.  Keep the Soy Paint for the Hamachi, (it was beautiful) but maybe change it for something like the Avocado Crema of the Empanadas. Again, a minor observation, but I think that one extra step in innovative presentation would put the restaurant into a different league.
Speaking of the Empanadas with Avocado Crema ($10), they weren't really Empanadas, but they were pretty damn tasty.  Instead of the typical dough that is the hallmark of an empanada, they used a super buttery puff pastry, which made the Puff Pastry Slut in me sing with glee. With maybe just a touch more of the beef filling inside, these "Empanadas" might be one of my favorite plates of food in town.
Another big hit were the Meatballs ($9). With this beautiful grayish Callampa (Spanish for mushroom) sauce and a slice of pickled jalapeño pepper on top, these were really magnificent little bites of food.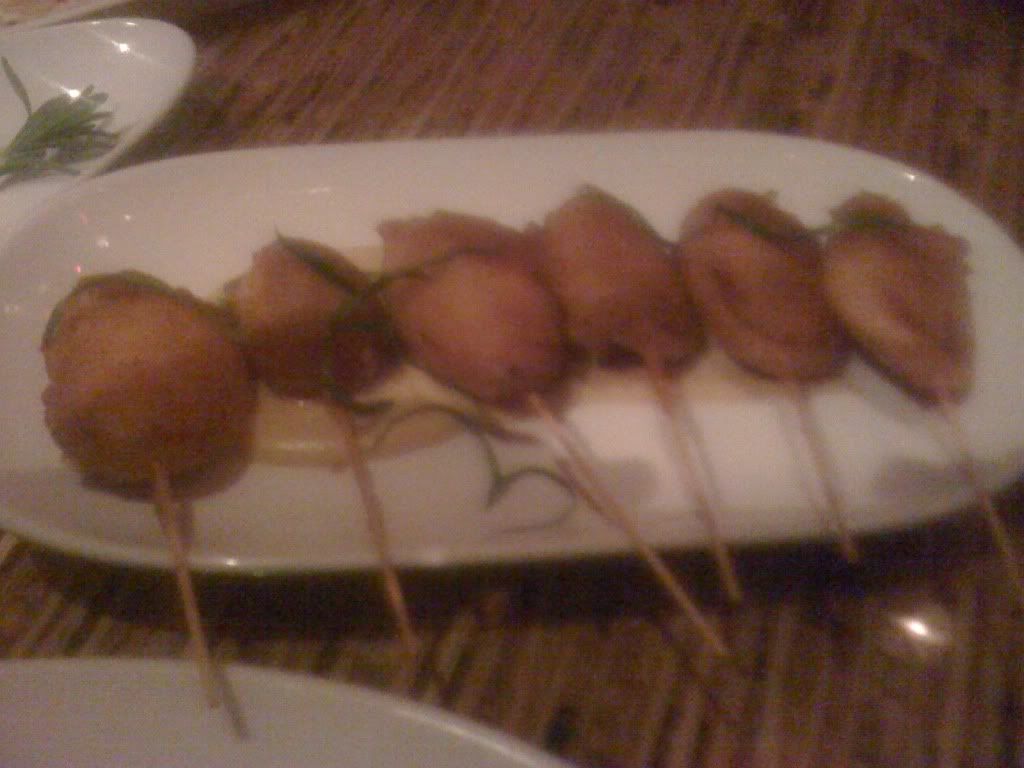 The prices for the most part were very reasonable considering the quality of the ingredients and the care that went into each dish. I might knock a dollar off the Corn Dogs ($10) which were slices of chorizo, battered and deep-fried with an habanero-mustard.  The only thing I saw that was one exit away from Outrageous Town were the Piggy Back Dates ($9) which were the standard bacon-wrapped almond-stuffed dates and goat cheese quite often found at tapas restaurants. I think $6 would hit the mark much more appropriately. They were very good, but it's still just 5 dates wrapped in about a slice and a half's worth of bacon.
Upon the suggestion of our magnificent server, Joy, we decided to end our night with the Banana Bread Pudding, and we tacked on an order of Churros, too. Before I tell you about how right Joy was about the Banana Bread Pudding, I really need to tell you about Joy, herself.
Ok, so it doesn't hurt that Joy happens to be a knockout, drop dead gorgeous girl, but more importantly (no, really) I was beyond impressed with her mastery of the menu.  She knew the drinks and the food inside and out. When we would ask for a suggestion or her thoughts on a menu item, she immediately responded with detailed information about what it was that she suggested and why she suggested it. She was incredibly attentive and just a Joy to be around (because she's NEVER heard that one before)!  I know by the time this gets posted, Caña will only be in its 2nd full day of operation, but Joy deserves a raise.  I can't even imagine being that good on the first performance of a new show. Bravo, Joy, bravo!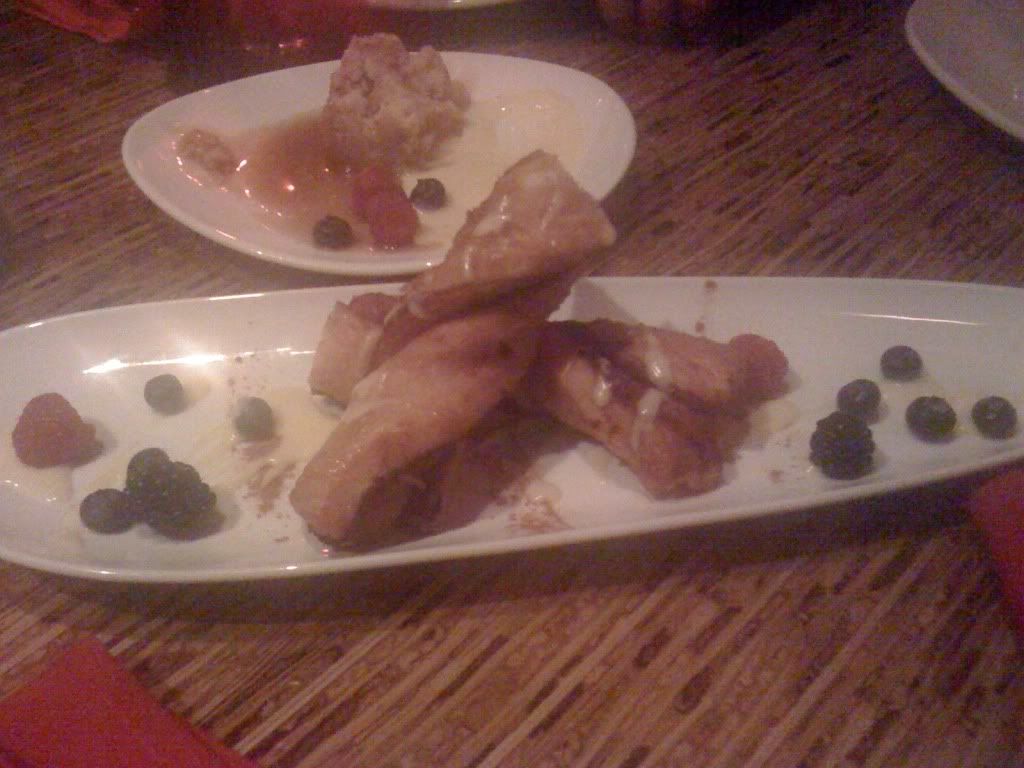 The much lauded about Banana Bread Pudding ($8) was deservedly so. It was delicious, and for my money, the best thing I ate among a plethora of good eats. With the perfect balance of flavors between the banana and rum, you shouldn't be allowed to leave the building before trying this. The Churros ($7), like how the Empanadas were not empanadas, were not churros, but they were still tasty. Twists of that same super buttery puff pastry with a cinnamon / brown sugar mix more in the style of Cinnabon than the traditional grainy goodness.  I should clarify that I can appreciate a good twist on a standard dish just as much as the next guy, but both the Empanadas and the Churros were a few clicks past a "twist" and into the realm of an entirely different dish. A delicious dish, but a different dish.
With some minor tweaks here and there, Caña Latin Kitchen & Bar can easily catapult itself to one of the premiere hot spots in town. The biggest adjustments I would make would be in some of the cocktails. I also had the Sweet Tea ($9) which was rum, black tea and sugar cane. It was way too rummy and it just tasted like booze and sugar.  They use all fresh produce and homemade syrups, but the goodness of that was regretfully overpowered by the booze. Personally, I think if you are going to go through all the trouble to use premium ingredients, let them shine and don't bury them with rum.
All in all, it was an extremely impressive first day on the job by all involved. We're thrilled they have late night hours posted, being open 5pm – 2am daily.  Tasting Las Vegas wishes Caña Latin Kitchen & Bar great success and highly recommends it to everyone!
—–
Caña Latin Kitchen & Bar
Town Square Las Vegas
6599 Las Vegas Blvd. S.
Las Vegas, NV 89119
(702)  722-6060
Follow Caña on Twitter at @canalasvegas
—–
Mike Dobranski is a professional musician, amateur blogger, eater of good food, poker junkie, master of the inappropriate comment and bad husband to a wonderful wife. Follow him on Twitter at @MikeDobranski.
Follow Tasting Las Vegas on Twitter at @TastingLasVegas.