It was August 1, 2004 when The (now) Wife and I first arrived to our new wonderful city of Las Vegas.  The only things we really knew about Vegas at the time was that it was hot and you can gamble here. Other than that, our Tank of Vegas Knowledge was running on empty.  The Wife, as she'll no doubt be often referred to in my posts with Tasting Las Vegas, was about to begin her career as a Clark County School District Teacher.  Before they hit the classroom, all new CCSD teachers need to go to an orientation session. Among the important information dispersed at this orientation session such as "This is where we keep the chalk" and "This is how to hit a child and get away with it" was "Go forth to The Pasta Shop & Ristorante!"  Little did we know that this restaurant recommendation was going to be one of the best pieces of advice we may ever receive!
It was noted education expert, Dr. Harry Wong (yes, that's his name) that imparted the nugget of wisdom to go to the Pasta Shop & Ristorante to The Wife and the other couple thousand New-to-Las-Vegas educators.  It's now about 5 and a half years down the road from that moment, and The Pasta Shop has remained one of our all time favorites.
There are so many reasons why the Pasta Shop has remained one of our favorites.  Over these 5 and a half years, there has been no restaurant that we have gone to that has displayed the consistency of excellence that The Pasta Shop has.  Owned and operated by brothers David and Glen Alenik, with David doing most of the cooking and Glen running the front of the house, The Wife and I have been greeted by name by Glen since probably our third visit.  Glen has an uncanny memory and takes a genuine interest in what is going on in his loyal customers' lives, which is so refreshing.
To truly understand The Pasta Shop, you need to know its history and what it is en total.  Back in 1989, David and Glen took over a small Italian Deli type establishment in a little strip mall on the southeast corner of Tropicana and Eastern.  The deli there had pasta machines where the person that ran the place before would sell fresh pasta in a retail fashion.  Keeping the pasta machines and scrapping the deli counter, David and Glen embarked on what would be come a successful 20+ year multi-faceted business.
With the demand for their fresh pasta so high from other Chefs and Food and Beverage Directors that frequented and continue to frequent the restaurant, David and Glen began to sell the fresh pasta wholesale to many of the major resorts along the Las Vegas Strip, with clients including; Caesars Palace, The Las Vegas Hilton, The Riviera and the MGM Grand.  With years of Top Zagat Ratings and Restaurateur of the Year awards under their belts, the Alenik brothers have made quite an impact on the palates of Las Vegas' culinary industry pros, tourists and locals alike.
The Pasta (yeah, it's so good it deserves a capital "P") is, appropriately enough, the ultimate ingredient in The Pasta Shop's arsenal.  While so many Italian restaurants use pasta as a cheap vehicle to deliver whatever saucing they actually paid attention to, no matter how exquisitely delicious the sauce is at The Pasta Shop, the Pasta is always the star of the show.  I like to think of it as if we entered an Iron Chef taping and pasta was the secret ingredient; the pasta is always the feature; not the tomatoes, garlic, chicken or shrimp.  By no means is the pedestal I put their Pasta upon meant to belittle their saucing, as it too is wonderfully remarkable, but it just emphasizes how truly special their Pasta is. Keep in mind as well, the food is far from a Mama-Stirring-The-Sauce joint.  The sophisticated Pasta is well-complimented through sophisticated conceptualizations of standard Italian dishes.
For the first two years or so of dining at The Pasta Shop, all I would ever get was the Chicken Parmesan.  The Chicken Parmesan was the first thing I ever ordered (as I am a well-documented Chicken Parmesan slut). It was so good I was stuck in a rut that every time I craved Chicken Parmesan, which is just about every day of my life, we would head to The Pasta Shop and that is what I would get.  One day, I finally forced myself to order something different, which I believe was the Shrimp Fra Diavolo, and I am now proud to say that I have been clean for about 3 years now and order from the full selection of their menu!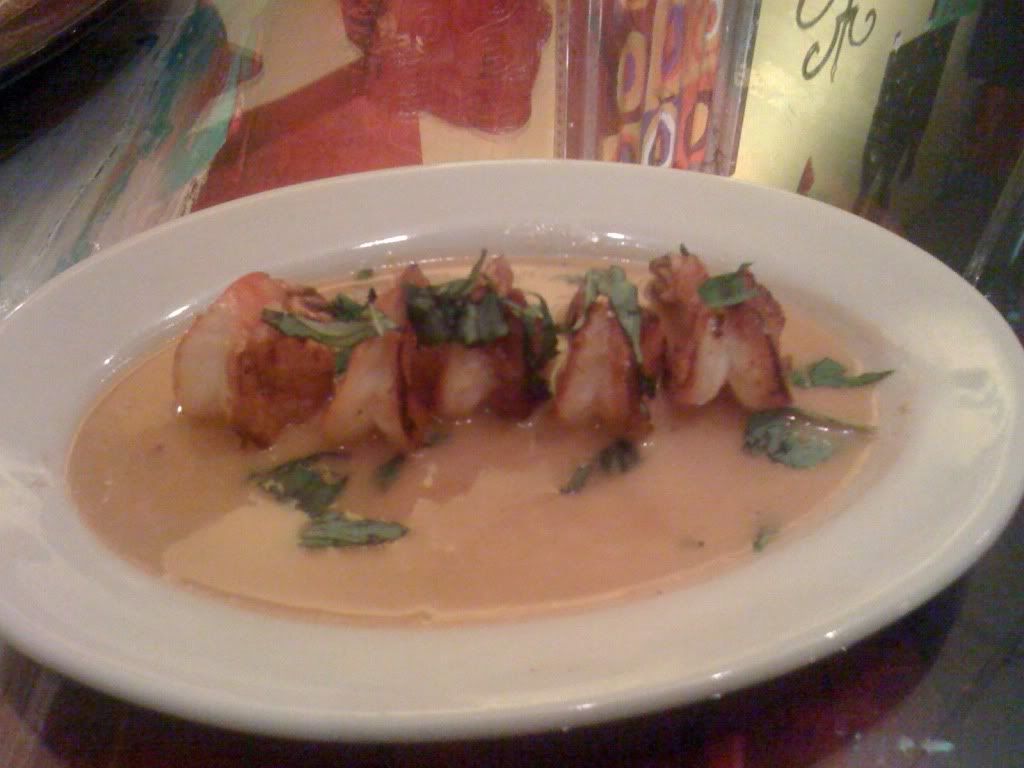 On our most recent visit, we began our meal with the Tiger Shrimp appetizer ($10.95) and half of their Classic Cheese Pizza ($9.95).  The Tiger Shrimp are butterflied and pan seared at such a high temperature that this wonderfully crispy texture develops on the edges of the butterfly. The pool of the rose garlic butter sauce which the shrimp rest upon is nothing short of perfection. I promise you that it will take all of your willpower to not pick the plate up and pour the sauce into your mouth. Fortunately, you'll have a basket of bread with their tasty low-moisture mozzarella cheese melted on top to sop up all of the goodness.
The Classic Cheese Pizza is just as advertised; a classic cheese pizza.  A thin, New York Style (the Alenik Brothers hail from Upstate NY) buttery crust with a standard tomato sauce and more of that delicious low-moisture mozzarella.  I would say that it is simple and satisfying, but since making good pizza in Las Vegas is apparently a minor miracle (as displayed by the only three or so places in the entire valley that make a good pie), it could be justifiably said that The Pasta Shop's offering to the Pizza Gods is special.
Another one of the niceties of The Pasta Shop dining experience is that a Caesar Salad comes with every entree.  Regrettably rarely seen in the day and age of the A la Carte Nickel and Diming Trend, it's refreshing to pay a reasonable price for an entree and not have to shell out another five bucks for some lettuce.
Before I start gushing about the entrees, I need to pause for a moment and remark on the unique decor.  The Pasta Shop also serves as a gallery for AKA Inspired Art by Ann Alenik.  Working primarily with metals, although she also has fabulous glass and tile works, Ann offers a stunning collection of original pieces as well as unique twists on some classics.  We own a few of her works, and if you'll indulge me with yet another side story, I find this amusing and a true testament to her work.
One of the pieces we own of Ann's is a work she did using Gustav Klimt's "The Kiss." When we have guests over, everyone, and I mean EVERYONE, sails right by our original Picasso lithograph (Le Petite Corrida) and remarks / gushes about Ann's beautiful framing of Klimt's famous work.  Learn more about AKA Inspired Art at her website at http://www.akainspiredart.com.
And now, without further interruption, back to the food…..
After smelling the deliciousness of our food being prepared coming from the kitchen, our entrees arrived. On this day we chose the Spinach Linguini Oil & Garlic ($17.95) with Shrimp (+$5.95) and the new-to-us Ravioli Bianca ($16.95).
The Spinach Linguini Oil & Garlic is a garlicky nirvana with the pungency of fresh garlic masterfully moderated with the sweetness of sun-dried tomatoes and the richness of mozzarella. While garlic is quite present, it somehow doesn't overpower the Spinach Linguini. I don't understand how, and maybe I'm not supposed to understand how, but the Pasta is still the star. While this is not a dish to order if you have any hopes of romantic intimacy in the next three days, this dish is certainly one of the highlights in what is a Star-Studded Menu.
New to us, but what has instantly catapulted itself onto the favorites list, is the Ravioli Bianca.  The silky texture of a wonderfully tasty ricotta filling pairs perfectly with sauce made from browned butter, fresh basil, Roma tomatoes and pine nuts. Exquisitely executed, it is such a treasure for such fine Pasta to be showcased in so many delectable ways.
Glen then surprised us with a complimentary Tiramisu, a sweet ending to a magnificent meal.  It's gestures like these that make loyal fans into loyal fans that gush to everyone they know what a wonderful experience they always have at their restaurant.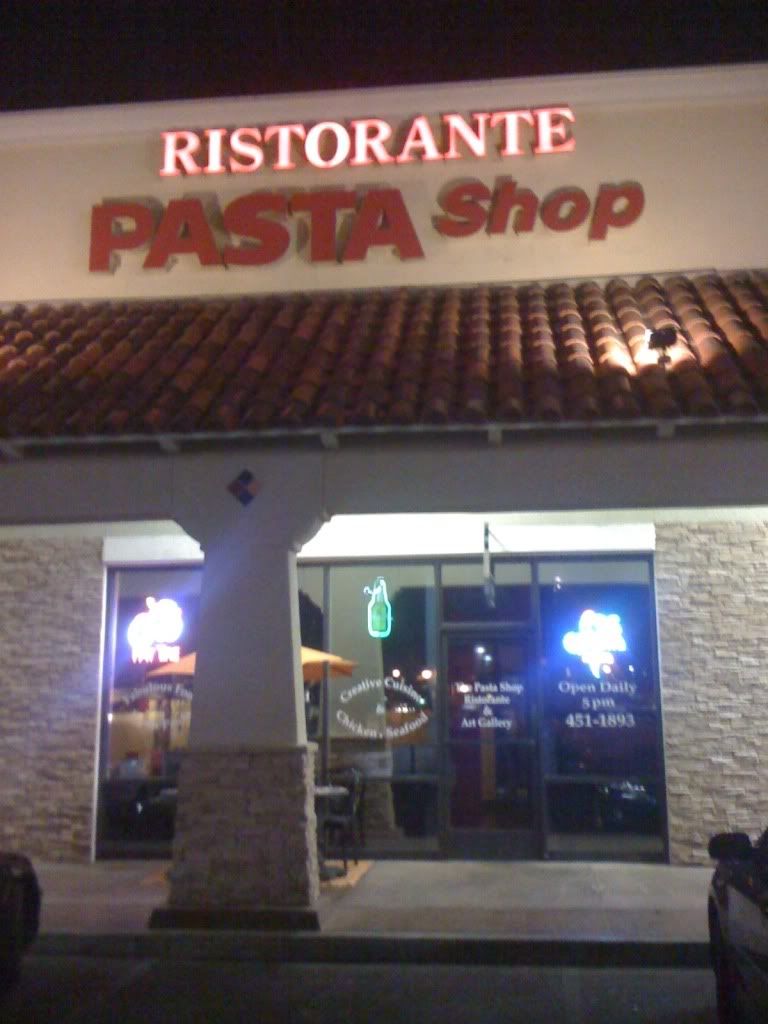 The Pasta at The Pasta Shop & Ristorante has no equal in Las Vegas. I don't care if you're The Mario, The Alessandro or The Paul a few blocks to the west of The Pasta Shop's location, The Alenik Brothers have set the bar on how to make a tasty noodle.  It's been over five years since our first visit, and there are sure to be many more years of the Pasta Shop putting a smile on our face.  If you happen to visit The Pasta Shop for the first time based on this review, please tell Glen I sent you…he knows who I am.
—–
The Pasta Shop & Ristorante
2495 E. Tropicana Ave.
Las Vegas, NV 89121
(702) 451-1893
—–
Mike Dobranski is a professional musician, amateur blogger, eater of good food, poker junkie, master of the inappropriate comment and bad husband to a wonderful wife. Follow him on Twitter at @MikeDobranski.
Follow Tasting Las Vegas on Twitter at @TastingLasVegas.