Where I call Italian restaurants that feature a more "home cooked" kind of cuisine, "Mama-Stirring-The-Sauce" establishments and Mexican restaurants "Mama-Pressing-The-Tortillas" places, what should I call it when we find home cooking qualities in an Indian joint? Mama-Stoking-The-Tandoor? Are tandoors even stoked?  Well, for the purposes of the right now, they are until I learn otherwise.  These are probably the types of things I should know before I write, but why change now.
Origin India is far from a "Mama-Stoking-The-Tandoor" Indian restaurant.  While some of the dishes will be found in any Northern Indian home kitchen, they are prepared with a level of controlled refinement that many Mama's Boys might scoff at and proudly claim their Mother's dominance over the professional chef.  This controlled refinement has certainly spilled over to the new Lunch Buffet, which I recently visited.
You get a great first impression when you walk into Origin India. Nicely decorated and lighted with a step up in flatware, plates (ok, they're only square, but at least different than the norm) and glassware.  The buffet itself also emotes a sense of higher quality with three individual Copper Chafing Dishes for the hot food instead of the typical long slop bar of hotel pans complete with customary sneeze guard that is more commonly found at buffets. The soup and cold items were in another area along with the plates, all neatly arranged and looking good.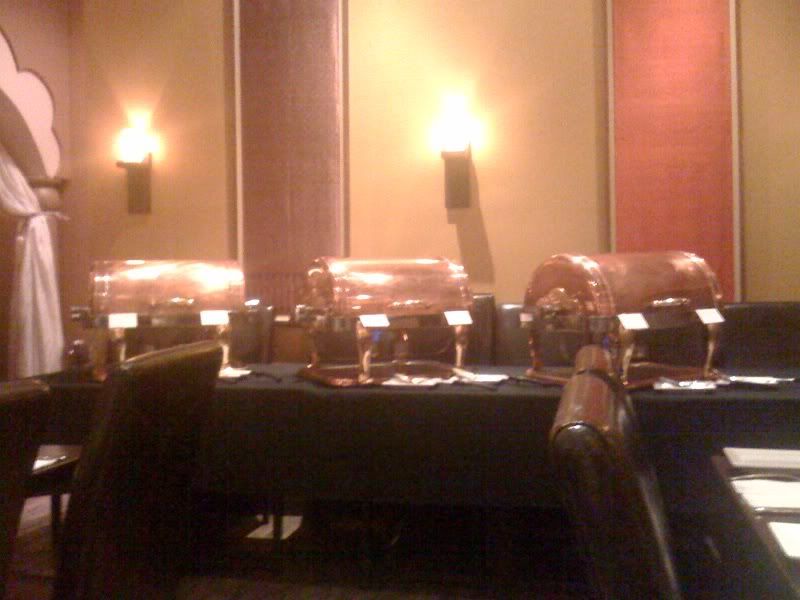 The cold items included the traditional Raita and two salads that I can't remember what they were (I know one involved carrots) and the soup was described to me as an Indian Vegetable Soup.  In the three chafing dishes were a total of 6 items; Basmati Rice, Chicken Tikka, Dahl Tadka, Zucchini Curry, Fish Curry and the hands down winner of the show, Rajistani Lamb.  Right off the bat, you'll notice that the ultimate staple of all that is in a standard Indian Lunch Buffet was missing in the Tandoori Chicken and replaced with Chicken Tikka.  Where Tandoori Chicken will traditionally have the bones in, Chicken Tikka is boneless chicken pieces cooked on skewers, but other than that, much of the preparation is the same being marinated in spices and yogurt and cooked in a tandoor.
The Dahl Tadka (think Yellow Lentil Curry) and Fish Curry both exemplified the bland "controlled refinement" flavor I mentioned above. Upon further review, I think I'll just put the Dahl Tadka in the category of just bland, as just the tiniest bit of cilantro, err…I mean coriander (this IS India, after all), just about overpowered the dish of yellow lentils.  I'll give the benefit of the doubt to the chef in the Fish Curry as instead of just using the fish as the vehicle du jour to deliver the bold flavors of Indian love, the curry was restrained so that the delicate flavor of the fish could still come through.  I was impressed at the texture the fish retained as "stewed" buffet fish often equals disaster, but not here.
Finally we arrive at the star of the afternoon, which was the Rajistani Lamb.  Bold, flavorful, melt in your mouth lamb and spinach stew goodness, this was the offering of the buffet that made me want to keep going back up for more.  The flowery flavor of cardamom gave the lamb curry a memorable twist, yet still allowed to flavor of the lamb to not be forgotten because of it.
One other note of mention was the impeccable service.  Yes, it was a buffet, and yes it wasn't too busy, but my water glass was never more than 2/3 empty, and in my book that is pure gold.
Coming in at $14.95, Origin India's Lunch Buffet is pricier than other Indian Lunch Buffet offerings in town, but the addition in price may be worth it to those seeking surroundings a bit more refined and flavors that won't stick in your mouth for the next three days and come out of your pores in your next business meeting.
*UPDATE: 01/12/10* – Apparently there is a 20% discount offered to locals. Not sure if this will just be for a limited time, but it never hurts to ask!
—–
Origin India
4480 Paradise Road #1200
Las Vegas, NV 89119
(702) 734-6342
http://www.originindiarestaurant.com
—–
Mike Dobranski is a professional musician, amateur blogger, eater of good food, poker junkie, master of the inappropriate comment and bad husband to a wonderful wife. Follow him on Twitter at @MikeDobranski.
Follow Tasting Las Vegas on Twitter at @TastingLasVegas.