After a rough day at the office, I needed something to comfort me.  Nothing brings peace to a stressful day quite like a late night gorge.  With nothing of interest in our kitchen, and a still successful adherence to my New Year's Resolution of "No Fast Food" (I deeply miss you, Taco Bell), it was Spaghetti and Meatballs that was calling my name, and I sought to answer that call.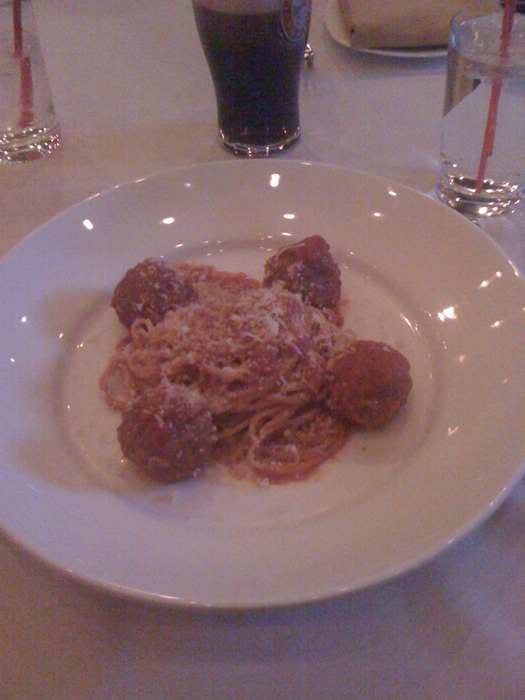 My intention was to go to one of my Mama-Stirring-The-Sauce standbys, Casa di Amore, but alas it is closed on Tuesdays (which I discovered as we pulled up to the front door).  My mind racing to think of a late night Italian restaurant, I decided to give the new location of Ferraro's (across from the Hard Rock Hotel on Paradise) a shot.
We arrived at Ferraro's a little bit after midnight.  The restaurant side was closed for the evening, but the bar / lounge area was open and serving the full menu.  I haven't been to Ferraro's before, so the menu was new to me.  The menu actually looks quite good, a bit upscale for my late night Spaghetti and Meatball craving, but certainly looked good enough for a return visit during more a more reasonable hour.  Then we ate the food…
Before I delve into the disastrous plate of food I was offered, let me first set the scene a bit further.  There was one girl working as bartender and floor server, with a couple of gentlemen running through the numbers behind the cash register.  The place was moderately busy, certainly justifiably busy enough for one bartender and at least one dedicated server.
There was a guy playing Stevie Wonder and Earth Wind and Fire tunes in the Weather Channel Style on a piano / keyboard / drum track set up.  The musician in me went into convulsions, although it was kitschy / horrifying enough to find amusement in.  Probably not the intention of the artist at work, but it certainly brought a "smile" to my face.
It took quite a while to get drinks and to order the food, but not really the fault of the person working, more of an issue of under-staffing.  Not seeing Spaghetti and Meatballs or anything of the like on the menu, I asked the server if they had it. She told me that it was on the menu, but she failed in the attempt to find it printed as well, but then reassured me they'll make it.  The wife, who was a true trooper in all of this, just ordered a House Salad.
After the standard wait time, my Spaghetti arrived, but no House Salad was to be found.  After about another 5 minutes, the salad arrived and my almost unholy hunger pangs could finally be satisfied.  The person who brought the plate (different than the over-extended bartender) asked one of my favorite questions; "Do you want parmesan?" Of course I want parmesan. I've wanted parmesan on every plate of pasta I've had in the 30 years of my life. I love parmesan, especially of the Parmigiano Reggiano variety.  I've never tasted the sauce before agreeing to the deal, but this plate of pasta may have changed my entire cheese-sprinkling universe.
The pasta, which as you can see in the picture above, was half-order sized at best with four small meatballs.  My first bite brought forth a flurry of emotions, all of them bad.  The pasta was quite a bit undercooked and the sauce was abhorrently salty.  I like my pasta "al dente" but this almost had a crunch to it. Not good. The only thing I can guess about the sauce itself is that there was already about a pound of parmesan put in it, before I ever even agreed to the additional bonus cheese.  The final product was just a jarring, salty mess.  The meatballs were ok, at best, but nothing could save this monumental fail of Italian heritage.  Being as ravenously hungry as I was, and given the already small portion of food put before me, I swallowed it just so my stomach would stop growling and I could get back home.
Beyond the lingering taste in my mouth, the biggest regret of not sending this sad plate back was when we got the bill.  $18 for a miniscule portion of bad food!  (Remember, it wasn't on the menu, so price was unknown) I know Ferraro's is located across from the Hard Rock Hotel, but that is approaching the border of Outrageous Town!
It was sad to have such a bad experience at what is generally such a well-received restaurant.  I want to give Ferraro's the benefit of the doubt as I don't know if it was just a bad night, the quality you get from this place at such a late hour or there's a reason why Spaghetti and Meatballs isn't on the menu (although you can get pasta and meatballs separately).  I'm not sure when I'll be able to go back to Ferraro's to give it a proper full review.  This disappointing preview certainly doesn't encourage me to go back any time soon.
—–
Ferraro's
4480 Paradise Road
Las Vegas, NV 89169
(702) 364-5300
http://www.FerrarosLasVegas.com
—–
Mike Dobranski is a professional musician, amateur blogger, eater of good food, poker junkie, master of the inappropriate comment and bad husband to a wonderful wife. Follow him on Twitter at @MikeDobranski.
Follow Tasting Las Vegas on Twitter at @TastingLasVegas.