Hot off the heels of his two groundbreaking, some might say Earth-shattering books, The Omnivore's Dilemma: A Natural History of Four Meals and In Defense of Food: An Eater's Manifesto comes Michael Pollan's newest guide to good eating, Food Rules: An Eater's Manual.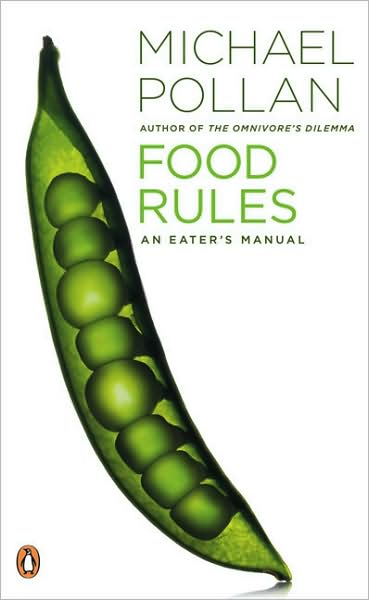 In Food Rules, Pollan continues his quest to educate Americans about the dangerous pitfalls of a Western diet, full of highly processed, chemically and hormonally enhanced "edible foodlike substances."  Through 64 short, yet profound "rules," Pollan navigates us around these pitfalls and leads us to a land of eating healthier, tastier whole foods.
To gather these 64 rules, Pollan drew upon his years of dedicated research and interviews with renowned doctors, scientists and nutritionists.  He also took the advice of grandmothers from around the globe, which is quite often much more reliable than the admittedly young and growing field of Nutritional Science.
Broken up into three sections; What should I eat? (Eat food.), What kind of food should I eat? (Mostly plants.) and How should I eat? (Not too much.), Food Rules offers a fairly comprehensive guide to how we should approach what we put in our mouths. Here's a few examples of Pollan's pithy wisdom:
#2 – Don't eat anything your great-grandmother wouldn't recognize as food.
#13 – Eat only foods that will eventually rot.
#19 – If it came from a plant, eat it; if it was made in a plant, don't.
#57 – Don't get your fuel from the same place your car does.
#60 – Treat treats as treats.
This book is an important read for those of us here in Las Vegas; the land of over-indulgence.  I personally have struggled a great deal from a lifetime of eating exactly how this book tells you not to eat.  As I make this transition in my own life, this blog will highlight the triumphs and the fails of the process to a better, healthier life.  Not only eating healthier, but eating more ethically responsible.  Even though Las Vegas is inherently one of the most unsustainable places in the world, the locally grown, organic, sustainable food movement is alive and well here from both Las Vegas Strip celebrity chef's such as Mario Batali or Rick Moonen as well as Off The Strip gems like Chef Rex George's Chef's Palate or Chef Jean-David Groff-Daudet's Garfield's Restaurant.  It is my own, as well as Tasting Las Vegas' pledge to bring this world of better eating to you.
Getting back to the subject at hand, Food Rules comes in at a lean 140 pages, although it really isn't even that, and I really can't imagine a better way to spend $11 than to buy this book.  It's a quick read that can literally change your life, all for the better.  If you have ever said something like; "I don't remember, is water good for you or bad for you anymore?", then Michael Pollan's Food Rules: An Eater's Manual is the book for you.
—–
Mike Dobranski is a professional musician, amateur blogger, eater of good food, poker junkie, master of the inappropriate comment and bad husband to a wonderful wife. Follow him on Twitter at @MikeDobranski.
Follow Tasting Las Vegas on Twitter at @TastingLasVegas.